The Art of the Word: Patty Larkin Interviewed by Yvonne Conza
On writing music to the poems of Nick Flynn, Marie Howe, Natalie Diaz, and others.
Bird in a Cage (2020), the latest addition to Patty Larkin's three-decade, thirteen-album career, is crafted from ten poems by Nick Flynn, Marie Howe, Natalie Diaz, Kelle Groom, Stanley Kunitz, Robert Pinsky, May Sarton, Kay Ryan, William Carlos Williams, and Billy Collins. Larkin, a guitar-driven singer-songwriter, writes intensely visual lyrics that are rich in intricate wordplay. Five of her songs have been paired with film and television soundtracks, such as "Good Thing," which appeared in Columbia Pictures's Random Hearts. Fellow musician Mary Chapin Carpenter describes Larkin's singular sound as "gorgeous, moving, provocative, of-the-world," adding that her guitar playing is "badass."
Photo by Deidre Portney. Courtesy of SRO Artists, Inc.
- read more -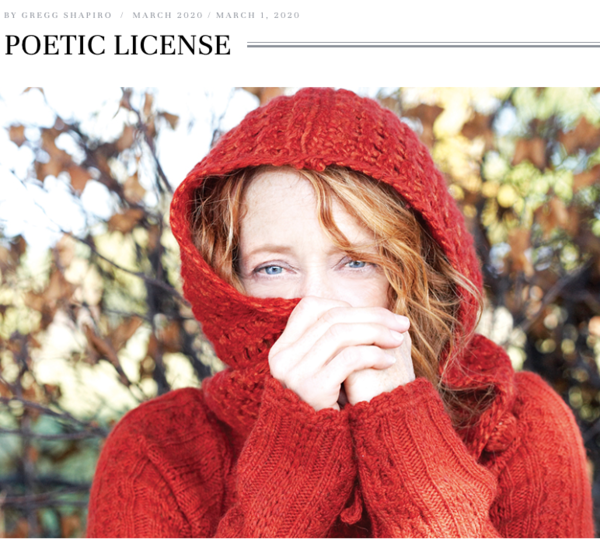 POETIC LICENSE: Singer/songwriter Patty Larkin has some anniversaries to celebrate.
First is the 35th anniversary of the release of her first album, 1985's "Step Into the Light," as well as the 10th year anniversary of 2010's "25," a double disc set on which she teamed up with an amazing array of guest artists, including Dar Williams, Janis Ian, Suzanne Vega, Rosanne Cash, Jonatha Brooke, Merrie Amsterburg, Bruce Cockburn and others. Additionally, Larkin is continuing the 25th anniversary "On a Winter's Night Tour" with fellow singer/songwriters Christine Lavin, Cheryl Wheeler, John Gorka and Cliff Eberhardt. Larkin also has cause for celebration because her new album, "Bird In A Cage" (Road Narrows Records) — in which she set poems by William Carlos Williams, Dante, Kay Ryan, May Sarton, Billy Collins and Stanley Kunitz, to name a few, to song — has just been released. We spoke with Patty about the new album and more prior to her March 15 "Winter's Night Tour" at The Ridgefield Playhouse:
Patty Larkin Photographs by Jana Leon.
- read more -